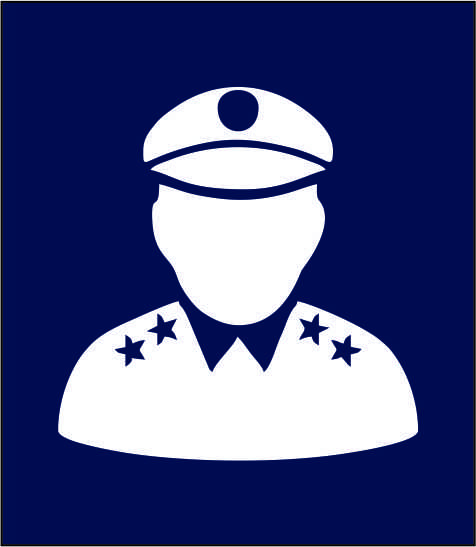 Police
A policeman or policewoman is a person whose job is to enforce laws, investigate crimes, and make arrests. Though the job is quite risky and hectic, it offers a position of authority and respect. There is a great scope for learning and serving the public.
You should have a bachelor's degree. 
In India, you can pass the state level civil services exam called PCS to become a police officer with the state police. You can become a superintendent of Police in the state police after 8-10 years of service though you can enter the police service directly as an SP if you pass the UPSC exam.
There is also direct recruitment through sports etc. Different nations have different requirements.
Problem Solving- A police officer's job is to problem-solve to prevent crime

Ability to Follow Orders- Police often have to perform tasks they do not want to do personally.

Capacity for Compassion and Respect- This is important, as it is a job that involves service to the general public.

Effective Communication Skills-Regular communication is required to investigate any scene.
TASKS
 Reduce the opportunities for the commission of crimes through preventive patrol and other police measures;

Aid and cooperate with other relevant agencies in implementing appropriate measures for prevention of crimes;

 Provide other appropriate services and provide relief to people in distress; and

Collect intelligence reports relating to matters affecting public peace and crimes in general including social and economic offences, national integrity and security.
This career requires compassionate and empathetic people who are great problem solvers. They need to be highly critical. They should be great listeners and be able to communicate non- verbally. They need to be highly professional and passionate for their profession. They are very adaptable and interactive sort of people.
Pros
It is an extremely challenging career choice. But offers rewarding pay for cops along with other perks.

It offers many types of specializations.

It is a highly respected career choice.
Cons
It is a dangerous occupation involving the danger of death. 

It has critical work Schedules. Holidays aren't available even on national holidays. 

Lots of patience is required to achieve success. Social life gets entirely disturbed.
Kiran Bedi
Kiran Bedi is an Indian politician, social activist, former tennis player and a retired police officer. Bedi joined the Indian Police Service in 1972, becoming its first woman officer.