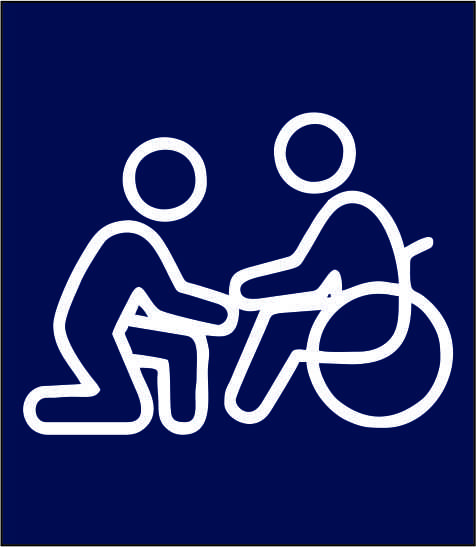 Social Service
Social work is an academic discipline and profession that concerns itself with individuals, families, groups and communities in an effort to enhance social functioning and overall well-being. Social work is a challenging, rewarding, and dynamic field.
There are multiple educational pathways to becoming a social worker, depending on the field of work.
A bachelor's degree in social work (BSW) is the most common requirement for entry-level administrative positions. However, some employers may hire workers who have a bachelor's degree in a related field, such as psychology or sociology.
Clinical positions require a master's degree in social work (MSW), which generally takes 2 years to complete. MSW programs prepare students for work in their chosen field by developing clinical assessment and management skills. All programs require students to complete a supervised practicum or an internship.
A bachelor's degree in social work is not required in order to enter a master's degree program in social work. Although a bachelor's degree in almost any major is acceptable, courses in psychology, sociology, economics, and political science are recommended. Some programs allow graduates with a bachelor's degree in social work to earn their master's degree in 1 year.
Communication skills.

 Clients talk to social workers about challenges in their lives. To provide effective help, social workers must be able to listen to and understand their clients' needs.

Emotional skills.

 Social workers often work with people who are in stressful and difficult situations. To develop strong relationships, they must have patience, compassion, and empathy for their clients.

Interpersonal skills.

 Social workers need to be able to work with different groups of people. They need strong interpersonal skills to foster healthy and productive relationships with their clients and colleagues.

Organizational skills.

 Social workers must help and manage multiple clients, often assisting with their paperwork or documenting their treatment.

Problem-solving skills.

 Social workers need to develop practical and innovative solutions to their clients' problems.
TASKS
Assess clients' needs, situations, strengths, and support networks to determine their goals

Help clients adjust to changes and challenges in their lives, such as illness, divorce, or unemployment

Research, refer and advocate for community resources, such as food stamps, childcare, and healthcare to assist and improve a client's well-being

Respond to crisis situations such as child abuse and mental health emergencies
This is a demanding profession, requiring emotional and personal maturity. Empathy and compassion are very essential attributes of a successful social worker. People involved must be problem solvers, flexible and adaptable. Extroverts can do really well in this profession.
Pros
Variety of Fields

 – Social workers have a variety of fields to choose from. They can work in schools, hospitals, nursing homes and even the military. Many social workers find work in government schools and organizations.

Work environment

 – Social workers do not have the worst work environments. Usually it is in an office, schools, hospitals or government organizations. These are secure and safe environments to work in.
Opportunity for growth

 – Even though it is not easy to get your foot in the door as a social worker, if you work hard, you have opportunities to be promoted. By completing your MSW you potentially open even more doors. This will help your growth.
Cons
Emotional exhaustion

– Being a social worker is not easy. Especially if you have to deal with difficult circumstances. Investing your feelings in a case/client can make you feel emotionally drained. This happens especially if you find it difficult to separate your personal life and your job.

Compensation 

– Social workers are not one of the top-earning careers. You have to really do it for the love of it. It is a secure income but many social workers live an average financial life.

Workload – 

With all the paperwork and difficult cases, our social workers sometimes are overworked.
Mother Teresa
She won the Nobel peace prize for her social work. During her lifetime she
became famous as the Catholic nun who dedicated her life to caring for the destitute and dying in the slums of Calcutta.
The Bair Foundation

 St Croix Hospice

Pratham.

Sammaan Foundation