How a Career Counsellor Can Help you to decide the right Career Path
Guidance and counselling hold great values for the education system. The aim of this is to promote individual growth in the right direction. Career guidance and counselling involve exploring the psychological profile of the students, enhancing their areas of strength, working on the barriers, and ultimately, coming down to the best informed educational and career choice for the individual. Generally, career counselling starts with an assessment which tries to measure the overall psychological qualities and traits of the individual. This unique profile is then matched with profiles of different professionals, and the closest match/matches are generally offered to the individual. Other than this, some activity-based explorations are performed to get into the individual's needs, desires, dreams, and aspiration, keeping the reality constraints into consideration. The task is not ended by coming down to one choice, but information on how to reach this goal is an essential part of this guidance program.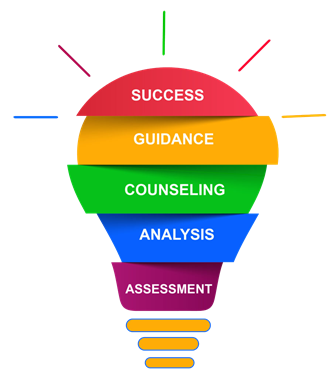 The process: 
 Career counselling is not a random act, but a systematic and objective process that helps an individual decide his/her right career path. The knowledge of his strengths and limitations is not provided subjectively or intuitively to him. Rather, a proper assessment is followed by one-to-one or group counselling sessions. This assessment can be a battery of test measuring all the relevant domains of the individual.
Tests for career selection include tests of intelligence, learning styles, aptitude, interest, personality, social and emotional intelligence, motivation etc. These tests are known as psychometric tests, as it quantifies the psychological attributes.
Once assessment generates numbers for different domains, it has to be interpreted to obtain a meaningful picture of the individual. This is the 'analysis' part and then a comprehensive report is generated using this data, and counselling sessions are planned.
Career counselling for students begins with the motto to create self-awareness for them. The report that is generated is then discussed with the students so that they get an overview of themselves before taking any decision. Here, they get introduced to their dreams in a more realistic perspective. Next follows the different explorative activities and the matching of the students' profile with that of the professional's.
The right career path takes some time to come into focus but comes only after a deep exploration is performed by both counsellor and students together.
Top career counsellors in India: 
Although, career counselling is a newly emerging field, there are career counsellors in India who are working hard to guide the students to become the best version of themselves and achieve a successful career. Some of them are Amrita Singh, Rahul Dasondi, and Sonila Mishra.
Amrita Singh is a PhD and MA in psychology and a certified Global Career Counsellor. She provides career counselling benefits to students across different backgrounds and age groups. Rahul Dasondi is a mechanical engineer by qualification, but a passionate and certified Global career counsellor. He takes counselling workshops in schools and colleges other than NGO's. Sonila Mishra has experience in various areas like training, people management, mental health counselling and others. She is also a certified Global Career counsellor and is constantly working towards making the process better.
Online Career Counselling:
With the advancement of technology, distance is not considered as a problem anymore. People can take online career counselling sessions from anywhere and everywhere. The psychometric tests are available online and the counsellors take sessions online. To send and receive information and/or inputs, email is used, and the expert advice is obtained over a call or in a video calling session.
Career guidance and counselling are becoming widespread across different parts of the world with the help of research and newer technologies. Just like any career counselling company, AIM2EXCEL believes in a happy and successful career. The procedure mentioned in this blog above is followed thoroughly in the AIM2EXCEL's program, along with hand-holding students with well-being issues. Deciding the right career path for an individual is a responsibility that the company takes whole-heartedly. Last but not least, have a happy and successful career ahead!