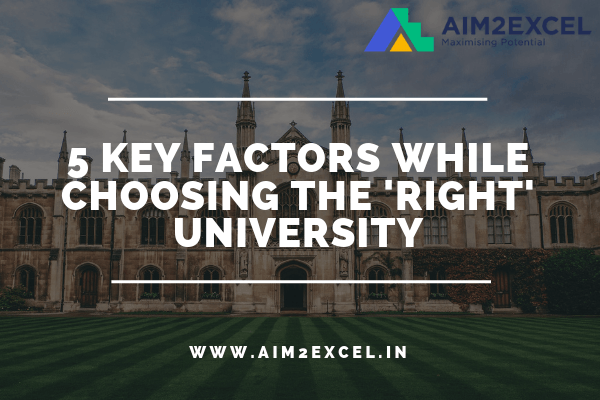 Choosing courses after class 12th is one of the decisions that scares both students and parents. Luckily, aptitude tests, career guidance centres and personal experiences help us in making this decision easier. An even daunting decision could be choosing the University. The college you end up going to will have a huge impact on your personal and professional life.

Some key factors that you must consider before finalising a university are:

Location: You will spend at least 3-4 years in your college. You should think about where you would want to go to school. Do you see yourself in the plush lawns of a Victorian era building or would you rather have a campus with glass walls and modern architecture? Are you a summer or a winter person? Would you like to travel for hours in trains/bus/flights during the holiday season to see your parents or would you rather have comfortable, home-cooked food everyday?
Student to teacher ratio: Knowing beforehand the batch size and intake capacity of the university is a smart move. This will help you ascertain how accessible a teacher would be in your college years.
Scholarships: College education can be pretty costly. Detailed knowledge of  financial aid like student loans and scholarships should be taken into account before enrolling in a university.
Accreditation: With a burst of colleges and universities, many students are cheated by schools that have not undergone proper certifications. Identify the regulatory bodies in your field and make sure the course you are pursuing is in fact accredited by them.
Overall Development: A university should not just make you educated, but also a well balanced individual. Always opt for universities that have clubs or societies that interest you. Being a part of a club is a great way to pursue your hobby and make lifelong connections
A fun way to get a feel of any university is to go for student fairs conducted by different universities and interact with faculty members as well as alumnis and current students.

Want help in selecting the right university? Enroll in our career counselling program! To Know more visit https://aim2excel.in/class-11-12th/