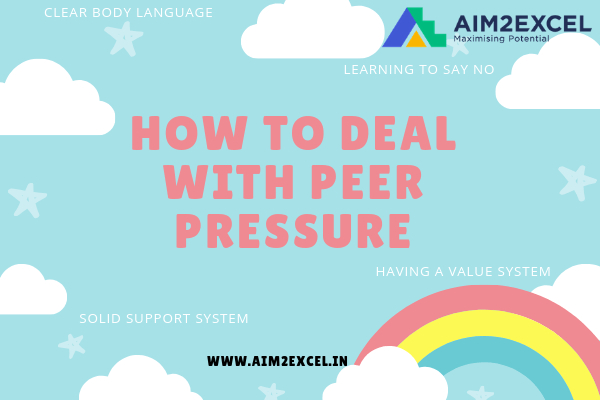 Peer pressure can be daunting for those who experience it. Children end up getting into some challenging situations because they are unable to say no to their friends. They fear that if they stand their ground, they won't be accepted by their friend circle. There are some ways that can help students manage the peer pressure.
Learning to say NO: It's hard to say no because of the fear of not being accepted. Parents should help kids to be confident in saying no. Parents can provide situations like what if someone asked you to cut class, or try a cigarette. In these situations, it is important for kids to be able to say no, confidently.
Support system: A solid support system is essential so that kids can express themselves without the fear of being judged. If kids know that they can talk about their feelings without being judged or punished, they are more likely to say no to peer pressure.
Inform: It's important for parents to teach their kids the importance of having a value system. Sit with the child and explain to the child what is right and wrong. Age appropriate behaviours should be discussed with kids in length.
Body Language: Teaching kids the importance of body language. While saying no to peers, kids should be direct and firm. Saying maybe, or I don't know, etc sends mixed signals. Kids should state their position clearly in a non-negotiable, but also non-confrontational, way.
Model: The most effective way of teaching children is to model the desired behaviour. Model saying no and maintaining a confident body language so that kids can learn how to confront a challenging situation.
Standing up to peer pressure can be very stressful for kids. It is important for kids to know when they are being pressured into something and that they can rely on their parents, siblings or teachers for proper guidance.
Having troubles dealing with peer pressure? AIM2EXCEL child counselors are here to help your child. To know more call +919910659815