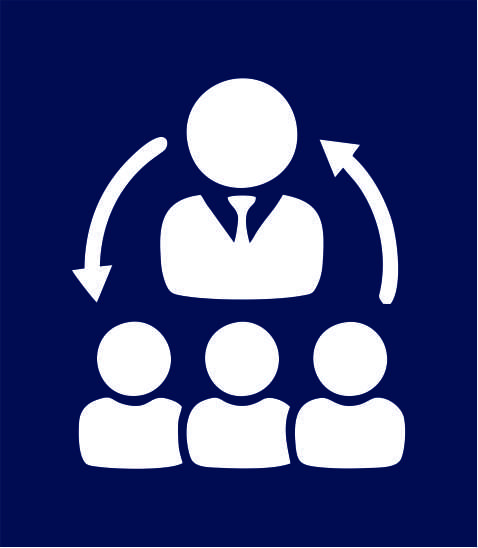 Human Resource Managers
Human Resource Managers are the leaders of a company's human resources team. Human resource managers make sure that their team hires the best and brightest people possible, encouraging and motivating HR staff, and working with employees to make sure they are motivated to work hard and feel safe.
Experience and education are key to this role. Human resources managers usually start out as human resource staff, and show an aptitude for leading employees and managing large projects. A bachelor's degree in human resources or business administration is needed, or similar courses in fields like industrial relations, industrial psychology or business management.
The MBA in HRM or Human Resource Management is the two-year post-graduation degree program. 
GMAT, NMAT are some common entrance tests.
Certification is available, but not necessarily required.
Decision-Making Skills: Human resources managers have to decide on who to hire, what insurance policy to use, how much to offer potential employees and much more.

Interpersonal Skills: HR managers often speak with employees, team members, contractors, and potential employees. Good listening and speaking skills are the keys.

Managerial Skills: HR managers will need to make decisions on where to put staff, watch over their own department's operations and work with other managers to motivate staff.

Organizational Skills: Human resource managers often tackle multiple projects at once.

Speaking Skills: HR managers might be called upon to speak to staff.
TASKS
Ensure policies, procedures and HR programs are consistently administered, aligned with organizational goals and are in compliance with professional standards, state and federal regulatory requirements and laws.

Plan, manage and coordinate all human resources initiatives; recruitment, compensation, benefits, training and employee relations of an organization.

Advise and coach managers on HR policies and programs including employee relations issues.

Manage daily departmental operations, business planning and budget development of HR programs.
Pros
Interacting with people

Helping people to find their aim

Helping people to remain productive

Having a direct impact on the organisation's output

Influencing various policies of the organization

Ensuring the top performance of the company

A chance to mould the future of an organization
Cons
The working demand for the job is huge

This job requires you to listen to the problems of a variety of people

Acting as a mediator

Keeping up with the growing competition in the market

People sitting all day for hours looking at a glowing light are bound to get ran over like a deer in headlights.

Boring cubicle works for new candidates
Felicia Fields
Felicia J. Fields, Ford group vice president for Human Resources since March 25, 2008, leads the global Human Resources for Ford Motor Company. In this position, Fields provides expertise in key HR capabilities and as a group vice president, Fields ensures the development and execution of business strategies that reflect the global business environment, customer and market needs. Her outstanding leadership and professional achievements have been recognized by numerous professional and news organizations.
Hollie Delaney
Hollie is the Head of People Operations for Zappos.com. She has many years of experience in the world of human resources. She started her HR career in 1996 and then joined the Zappos HR team in 2006. She has helped lead the charge of changing the traditional company structure to one based on trust and distributed authority. She's been pivotal in working to deliver happiness and provide the best place for employees to work.
GOOGLE

FACEBOOK

APPLE INC.

CSS Corp Pvt. Ltd

McAfee Software India Pvt. Ltd.

Actuant India Pvt. Ltd.

Hartex Rubber Pvt. Ltd

Larsen & Toubro Ltd

Mindtree Ltd.

Hindustan Electricity