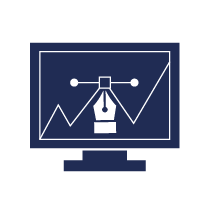 Graphic Designer
Graphic design is also known as communication design. Graphic designers are visual communicators, who create visual concepts by hand or by using computer software. They communicate ideas to inspire, inform, or captivate consumers through both physical and virtual art forms that include images, words, or graphics. Graphic designers combine art and technology to develop graphics for product illustrations, logos, and websites.
The minimum education requirement for Graphic designers is usually a bachelor's degree in Design (Graphics) for 3-4 years. Many programs require that students complete one year of basic art and design courses, such as principles of design and sketching, during their freshman year. During their undergraduate years, students can build a portfolio of work and gain experience through internships to enhance their employment prospects. For design courses at IIT's, one must have studied science with mathematics in Class XII and the candidate must have secured a minimum 50% in class XII.
A high degree of technical knowledge balanced with creative ability and a hands-on approach

Computer literacy including three-dimensional conceptual ability and CAD (computer-aided design) is imperative as most of the work is done with its help

Knowledge of industrial processes, techniques and standards is also necessary

Communication and customer service skills are necessary as the candidate must market his/her product.

Skills for developing final hand drawings and specifications or, more likely, using dedicated computer software (CAD) to produce design specifications, including parts lists and pricing
Graphic designers should be highly empathetic, meticulous, confident and ambitious. They should have excellent interpersonal skills and be good at pattern recognition. Extroverts who are open to ideas and have a creative mindset do great in this career. They should be negotiators and possess marketing skills. 
Pros
Allows for creativity

Those who work in manufacturing or large design companies may have regular hours in an office

Entry-level positions available with a bachelor's degree
Cons
The field is competitive, with the possibility of jobs being sent overseas.

The graphic design field is vulnerable to economic fluctuations.

Designers might need to travel to a variety of locations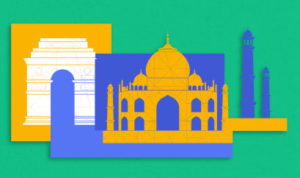 India
NID (National Institute of Design), Ahmedabad.

Industrial Design Centre, IIT Bombay.

IIITDM Jabalpur

Indian School of Design and Innovation.

MAEER'S MIT Institute of Design, Pune.
Dashrath Patel
Dashrath Patel was Indian designer, sculptor, who was the founder secretary of the National Institute of Design (NID), Ahmedabad, from 1961 to 1981. He practised in diverse art fields as a painter, ceramist, a graphic designer, industrial design and exhibition design.
Binoy Sarkar
Binoy Sarkar was an Indian social scientist, professor, and nationalist. He also got an opportunity to teach and work at the NID (National Institute of Design, Ahmedabad) for several years. He designed numerous logos of companies which includes DTC, Indian Airlines, and Airport Authority of India etc. 
Chermayeff & Geismar & Haviv

Landor

Meta Design

The Chase